"Tnye Cot"


when you left

for the front

you were

living heroes

and now

you are on top

of the hill

where only

poppies

blow..........


©

Jan Theuninck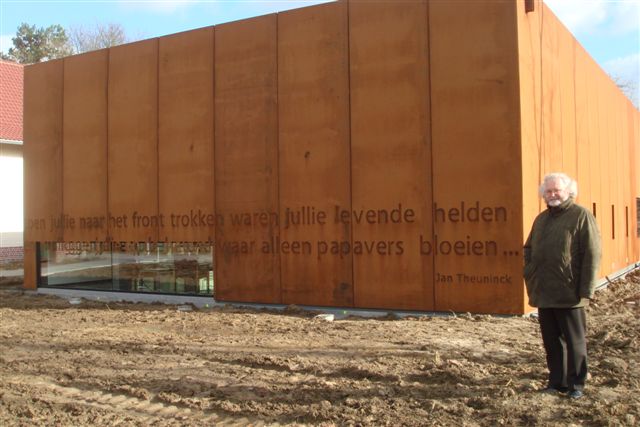 In the cortensteel wall of the new library in Zonnebeke, Belgium, you can read a poessay
by
Belgian painter and poet Jan Theuninck with the title Tyne Cot, named after Tyne Cot Cemetery,
the largest cemetery for Commonwealth forces on the continent. The building, which color refers
to
the war, is an artwork by architect Wim Supply, who tried to give a future to the past.
The library is located in the Chateau Park
where you also find the Memorial Museum Passchendaele 1917.

"Tyne Cot"


toen Jullie

naar het front

trokken

waren Jullie

levende helden

en nu

llggen Jullie

op de heuvel

waar alleen

papavers bloelen


©

Jan Theuninck