Poetry Offerings from Janet I. Buck

CleanSilver .BrowniePoints. .AchingVacancy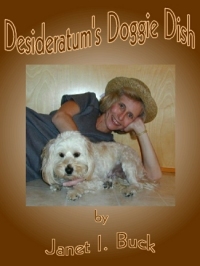 toorder Janet's newest bookasampler
Moongate's collection:WiltingFuchsiasASilent Sonnet ~ Black-beltBuddhas ~ DollarSigns That Steal LightMosaicMud ~ Move'sMud ~ TheOxygen Tank
Links to other web pages:
Moongate Internationale
Clean Silver
Cancer'swar you fought and lost. Fatherthrew away your clothes. Theymust have bled on everything. Mothballs brought to life by wingsof tattered memory. WhenI corner him, go digging foryour buried soul, he acts likelampshades tilted in relentless wind. Perkybulb just blinks, goes black. A turtle'sneck retreating into hollow shell. I fabricateidentity and make you up likebed-time stories for my dolls. In myhead, I study graves. Thinkof yours as vacant lots withpretty houses on their bibs. Cabinpressure choking why's? Calisthenicsof a dream. You'reso untarnished in my mind. No leadingladies of regret. Bridgeacross all troubled streams. If youwere here to brush my hair, itstangles wouldn't matter so. I wouldn'thave to spell-check selfish, erasingsmears of wishing heather marchingon contingency. Silver,clean, out-shining moons. Descantof mortality. Perfect archipelago. Dotingtrills of motherhood puffingtires of confidence. All myquestions wait for letters handsremoved will never send. Cremepuff clouds at heaven's gate in memosof a foreign tongue. My weddingday, an empty church withangrypews, without your satin bluegrass arms around my neck, playingwith my bridal veil.
-
Janet I. Bucknext.....topof page.....Moongate
Brownie Points
Pity's rice was over-cookedand sticking to ourmental pan.Pigeons caught injaws of eagleswhen it came to savingdreams.Cancer ate your secondleg.Now your kidneysare complaining.Transplants can bedone, of course,but it will takethe match of love.This crisis dinghyseems to floatamong the rapidsthat we share.Sick-to-death of,well, transcendingvapors in the caveof lame.Down depression'slaundry chute.Hitting bottom darkand hard.I was born with birdseedbonesand weak excusesfor a hip.Yours were stolenlike a pursein dark and cruelparking lots.Depression is a paper-shredderwe could often dowithout.What we share involvesdenyingcreaking motion'sslow retreat."Pretty" would demandrevision.Doctors had theirway with us.We have scars likeBrownie pointsthat crystalize mortality.Answers in our achinghearts,their pages punchedwith incomplete.
- Janet I. Bucknext.....topof page.....Moongate
Aching Vacancy
I was only threeyears oldwhen cancer's uglydinosaurate contents of myfather's joy,left his mattressand his heart a lop-sided saddlewith bruisesand cracks, a factof lifeto ride regardlessof the heat.With empty scrapbooksin my pen,I do not grieve yourdeathin normal, comprehensiveways.Its aching vacancyexists.I cannot argue itspoint,but have no realgrist for poetry,excepting sand ofa sealed urn.Photos steeped insepiaare grass-clippingsin a smelly can myfingershate to rifle through.I've thought of youon nights of proms:you'd buff my shoes,paint my toenailsin the dark, teach me how to kissa man,thread a needle,shape a pie.I've thought of youon wedding days:you'd have a hairbrush in your hand,comb the knots ofnervous tanglessettled near moistbaby's breath.Leper spots of sadnesssitwith venom in theirsecret moles.My love for you astring-less harpon stages of unopenedplays.The copyright ofyour morning smilebelongs to God orrings around agnostic moons.I wish I knew yourapron bows.Had your scent inborrowed sweaterspiled on and buttonedupwhen times were iceand I was cold.
- Janet I. Bucktopof page.....Moongate.