I.
Laburnum blooms whisk sanity
away from the wind; past
is a shifting
cloud.
summer
is pastel yellow-green,
picking purples from jamuns
shedding over the jaded footpath.
II.
Colours descend at
night,
fragrance is a whore.
III.
Moon becomes all the words,
where there is no language.
You are the silence I seek.
IV.
Memories drizzle
in times of drought,
monsoon is still far away.
V.
There is no walking on this street.
Minds float like lighted lamps in the
river that desires,
transposing myths and reality.
VI.
The quest is for eternity,
yet time throws things
either changed or hewed,
for instance, that
proud, naked-branched tree
which used to be the muse
of our conversations;
a year is a testimony enough
MEDITATION
A bird circumambulates a cloud
in the distant sky,
like a solemn pilgrim
with obscure prayers
Noises become limpid, like those of
the vehicles clattering on the road, or
the air swooshing between flimsy curtains
and the adjacent window pane
I put my high-heeled shoes back
into the drawer,
withdrawing myself from becoming
and repose into being
The mind marvels at the flawlessness
of the blank page-
unblemished by the words and
sketches of past or future
Noises grow into a pious silence
May be, every moment is an epiphany,
if lived in the present
RAINS
Outside,
it rained all night.
Inside,
there remained a desert
of breaths and voices
and their sentiments, thereof.
The distance to the window
becomes irreconcilable;
some rains can't get you
drenched.
HOW TO BUILD SANDCASTLES
The sand should be slightly moist,
like the remnants of the innocence
in your heart
and every touch of your hand
maneuvering between grip and tenderness,
just as those words that become
whispers in the acts of love
Do not care for the weather,
care for what you can do;
weather only loves to play
Pray for mind to imbibe endurance,
the task loses track of time
and toil; as for I can tell you
not all sandcastles are built on the beach
Some gets built in the dreams,
while others on the claimed or
unclaimed bodies of the people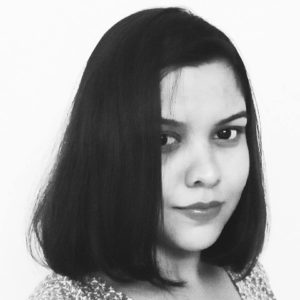 Deepanshi Balooni is a development professional from New Delhi. She runs a poetry blog-https://unacquaintedsilhouettes.wordpress.com


www.facebook.com/PoetryLifeTimes
www.facebook.com/Artvilla.com
[email protected]
[email protected]


Key of Mist. Guadalupe Grande.Translated.Amparo Arróspide.Robin Ouzman Hislop

goodreads.com/author/show/Robin Ouzman Hislop
http://www.aquillrelle.com/authorrobin.htm
http://www.amazon.com. All the Babble of the Souk. Robin Ouzman Hislop
www.lulu.com. All the Babble of the Souk. Robin Ouzman Hislop
https://www.amazon.com/author/robinouzmanhislop
http://www.innerchildpress.com/robin-ouzman-hislop.All the Babble of the Souk