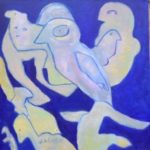 I got virus on my hands
virus on my clothes
virus on my feet
virus on my toes
Did I touch that doorknob
did I get too close
I can't touch my face
I can't scratch my nose
Oh baby my baby
close the door and come in
we've been quarantined
by Covid nineteen.
Oh I went to the sink and put the virus on the handle as I turned on the water on the water with the virus on my hands. So I lathered up the hands and I lathered up the handle. I lathered up the doorknob and I
lathered up my n o s e. Oops.
Cause
I got virus on my hands
virus on my clothes
virus on my feet
virus on my toes
Oh it's no use in runnin'
We can't take the train
We're all stuck at home
with virus on the brain.
david michael jackson