All the babble of the Souk
all the life of the planet &
so little part of it, that I breathe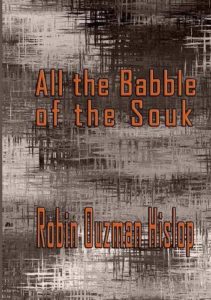 Amazon.com Robin Ouzman Hislop Author's Page


Gary Beck – All the Babble of the Souk is an elegant journey through both foreign and familiar climes. Anything but babble. Time and space bend in mysterious mists and mechanistic voyages. The poems pulsate with languid images that add to the wonder of travel to exotic places.
Scott Hastie – A collection of real substance that is long overdue. Robin writes with impressive depth and across a spread of philosophic stimuli that he makes uniquely his own. You do not have to travel long before you trip over killer lines, again and again… This is fresh, original and mature work, grown from one special creative soul's well seasoned experience. Robin truly has a voice that is his own and it has been worth the wait to see it flower…
Robin Marchesi – High time this great Poet was properly in print. His Poems resonate like the work of Cavafy and Gibran. They are deep and revealing, resonating in one's inner self. This book will stimulate your metaphysical being. Robin's Poetry opens you to questions about who you are…. Essential reading……
R. W. Haynes – Robin Ouzman Hislop's All the Babble of the Souk grips elemental tangles with wisely wistful authority, making a claim both for the adequacy of animate language and for erudite perception. Counterpointing the abstruse and the inescapably basic, these poems draw upon a power that surprises, engaging the reader in the poet's heartfelt conversation with a tradition and its diverse voices, including T. S. Eliot and Dylan Thomas. Hislop's retro-modernist recovery of vision argues for a refreshed perception of poetic possibility and a turn from the infinite regress of the verse which echoes the empty sophistry of twentieth-century language philosophers. Music, with its syncopation, minor chords, pauses, accelerations, jingles, knocks, and elegiac phrases constitutes a crucial part of the essence of this splendid collection.
Ian Irvine (Hobson) – The metaphor of the 'marketplace' or 'bazaar' – symbolic in this collection of public spaces generally (both physical and cultural/mediatised) – launches this remarkable collection of poems by a poet, editor and creative thinker of international significance. The 'souk' is a place of trade, chance meetings, overheard conversations and communal eating. This collection also links it to our post-post modern state of life in the face of cultural globalisation. However, rather than theorise key aspects of our world we are invited to explore them instead as states of being – with joyous and anxious dimensions. As the poet/narrator mingles, observes, samples and digests (in poem after poem) a colourful array of stimuli – sensorial, relational and intellectual – we gradually feel our perception of life and the species crisis/moment deepen and expand. The melancholy grandeur of the human predicament slowly comes into focus – largely through the poet's gift of empathy. A wonderful selection of poems updating for the new millennia themes mulled over by the likes of Baudelaire (in Paris Spleen), Apollinaire (in Zone), George Oppen (in Of Being Numerous) and many other great 19th and 20th century poets.
Marie Marshall – Robin Ouzman Hislop's new collection of poems – I find myself wondering instead of just reading on and enjoying the ride. Because Robin's poetry is often just that, a ride which contains lines like –
The hag in her rags begs her bag
holding all shadows to account.
each a new thought after a pause for breath, or so it seems, each with an image that sparkles, almost with effrontery. That's how I like my poetry – image, sound, and bare-faced cheek.
As the images pile up, or maybe I unearth more as I drill down, discovering depth in the poetry, the typographical puzzles pile up too, and I begin to wonder if they are deliberate cantrips on the poet's part. I hope they are. I hope they are, because I want to trust the poet's intentions. I know he's not your average Internet Joe, but a man with a mean, keen pen. He knows how to play, how to make free, how to brew poetry:
Riding along in our dream machine
our virtual reality all but a scream
no exit
blood on the wind screen, faithful Fido's gone
the machine's a mess, – every where's a gas.

A trickle through a diaphanous sheen
a thin crust peels, roll the dice
a question of ethics, the cost of life.
Y'know, somewhere along the line, Ezra Pound and John Cooper Clarke rolled dice for this man's soul, and I can't say who won. Maybe he walked away laughing while the bones still tumbled, soul intact. I hope so. He has the measure of our suburbs, seeing how
gleamed cleaned cars
the phallus of a Sunday afternoon
let us (you're here too, and I have morphed into 'we') catch our reflection in that polished surface, wondering how to measure the depth of the shine. Meanwhile
Danger, Deep Water, Keep Out
As if we could. There are caesuras in this collection, but they almost seem accidental, as though titles, page breaks, and stars merely interrupted a flow of thought momentarily. The collection has the feel of a single work, as though the poet sat down, started at the beginning, wrote the middle, and stopped at the end. See? The golden arches of a fast-food outlet, the taunts of a cuckoo, big Sunday words like 'bifurcation', 'pheromone', and 'olfactory', all rub shoulders, and rub along. We ride. It's the same ride all the time, but the scenery outside the window shifts, and fellow passengers come and go. Occasionally we get off, but only to stretch our legs
As we celebrate
life lies dead on the table
we eat it.
and then the ride starts again. But a short offering like that reminds me that on the return journey I must insist on long enough to read each poem on its own… and I'm by myself again, closing the book at its final page. Second impressions:
The poet is aware of the shape of his work on the page, of its concreteness. The poet knows when to be serious and when not to, and he knows when to muddy the water of each with the other. When he says 'Watch my stick', you hear 'This means you!' The poet can make a dream return from the rubble of artifice. I know poetry when I see it.

www.facebook.com/PoetryLifeTimes
www.facebook.com/Artvilla.com
[email protected]
[email protected]


http://www.aquillrelle.com/authorrobin.htm
http://www.amazon.com. All the Babble of the Souk. Robin Ouzman Hislop
www.lulu.com. All the Babble of the Souk. Robin Ouzman Hislop
https://www.amazon.com/author/robinouzmanhislop
http://www.innerchildpress.com/robin-ouzman-hislop.All the Babble of the Souk