A Quicksilver Trilling 
(Inspired by Leonard Cohen and Bob Dylan)

Once upon a time we met the platinum blonde, with a letter in hand and a brown Loro Piana handbag.
She was quiet and frantic at the same time (the obstacles of running from beautiful to damnit!)
You popped the bubbles in the hot flames,
in flamenco streets with bleeding trains 
that lead you, from the whistles to the cheating rainfalls.

Now, she's as quiet as the storm swept flower.
Now, she's an atomic bomb in the heart of desire.
She's as damaged as the ignorant meal to the fiery belly of a carnivore.
Meeting the vagrants are as easy as meeting you she'd laugh to herself.
Maybe, she's just a little deaf when the city shakes in a quicksilver trilling.
A little blind when the joy begins to fade from a celebration to just a thronging. 

So, you missed the thrills of the small crowd now.
That city took your bravery and your crown.
It's hard to be superficial in your walk.
The thrills of a million helicopters circling down.
Your heartbeats, a quilted bundle of wires.
In the Hollywood hideaways the public does watch with pinkies up in a permanent smirking 
shadow.
Hurry up to snap a picture of her durable nucleus falling apart.
Behind the bars, to the many alcohols and elixirs falling straight down the cold rocks.
Her beautiful monuments showing the crackles now,
and the drinking of the sweet fruit tree has become a little thick in the dust cloud social ball.
Maybe she's just a little deaf when this city shakes in a quicksilver trilling.

Maybe, she's a little thirsty when the water is sealed from the dams to her  willing lips.
This blessing is just a disguised curse when she's dressed up for another Judy Garland downward
spiral. 
I'm starting to rethink this shadow looking at his shoes, playing little Mr. Socialite and wearing a
Poor man's Bruno Maglis blues.
I'm standing here holding your golden cup catching the feathers of your golden goose,
and a shriveled-up ticket to the sacrifices you make at Tiffanys.
My culture lies behind the ropes holding the inside of my head.
To play lover and not to play dead.
So you can play elegant and hip for the artsy coffee shops.
They can spell your name in the drink and your heart melts, and you finally feel like a somebody.
So you tip the baristas and joke about the rats.
They don't know art, don't have MFA's and haven't been bought their gardens to thrive.
I just watch the fakeness leave your timid hazel eyes. 
And you try to adjust in the restroom and cry, I hear you in there weeping like a saturnine 
coyote.

There are a couple of genuine fools, 
Walking around pretending to be the rules of cool.
They folded under the pressures of rebellion, but they are beginning to wonder my darling.
They are wondering exactly how many canvases you have put your brush to.
Since you tell them all you're so smart and like a branch.
I'm just this poetic clown stuck with oversized t-shirts and a smile of a stripped screw.
Don't worry he'll pay for this free meal at this simpering Italian restaurant.
Then he'll be on his way back to the job of being a wonderful muse when the art professors 
aren't calling you.
Never to share a true linen of a sunrise together. Tell me exactly what art is when you don't 
Know the art that is a natural weather.
Oh, perhaps. Just perhaps, she's a little deaf when the city shakes and is shrilling.
A little more quicksilver trilling.

The sunrise is a little overbearing. I can't see the canvas from the golden glare I'm wearing.
Operation, a colorful tornado on a disco floor. We've got weak legs dancing.
Drunk and the quick pills are mixing.  And you're a drunk and grinding against the pistons.
More strangers trying to keep from pissing. They want to call you up for a night of your 
skin glistening and introduce you to a hypodermic waterbed.
You forgot me behind the trees. A little dirty when you have to sit and plead.
You have nothing you really need, but everything you want is in the halos of that river.

Well, those birds wake up a little earlier than you. And they seem sick without the worms to 
chew.  There isn't a masterpiece for them to view.
You went right into the darkness with your colors and your strength. 
Frail bones fail frail forests.  Simple supernatural spells bring crumbles to a magic mountain,
The journeys are hard to walk when the valleys and the lakes are droughts for the scrawny to 
swim in.
Maybe she's a little deaf when the animals stopped howling.
The wind is full of heat and rain is even melting. Around the curves the body is sealing.
The city is shaking to a quicksilver trilling.

From the windows, we used to see the clarity of the glass.
Now it's a little oily and hell is seen through the overcast.
It's a holocaust, razor sharp raindrops with teeth that bite, just like a brand new disease.
The queen must hide from the flee. Our humanity isn't built anymore on heartbeats.
Sometimes humanity is built from cardboard signs. Hold a little higher and ask for a prayer.
Ask for a shave of cool air to save you from a Tinseltown cataclysm.
So what does the wonder girl do? When she goes from pretender to blue to the shrew?
Does she realize her hair wasn't always so cute?
Does she realize the geniuses are all crooks?
Does she feel the jazzy palm trees have always been a little plastic and fake?

Much like the hypnotized starlets in the platinum blonde destruction game.
Oh, maybe she's a little deaf from the chess game that keeps yelling checkmate!
Maybe she's been blinded by the hysterical cut-throat authority waifs.
Maybe, she's just part of this jealousy, a vanish haze they thrown on you to make you a product.
A little pill sick and when the city keeps shaking.
Tiny slits of cracks in this quicksilver trilling.
Now, she's as naked as a blurry mirror. 
Now, she's feeling as pitiful as a stuttering preacher.
Now, her art is less of a picture that hangs above bountiful nouveau vanity mirrors.
Her art is the magnetism that pulls the moon through her evening veins.
Her art is when the clouds move in and pulls the curtains of stars over her delicate frame.
Maybe she grew tired of her ears constantly ringing.
Loud masochisms and feminine leeches luring and lingering.

A city shook to pieces in a quicksilver trilling.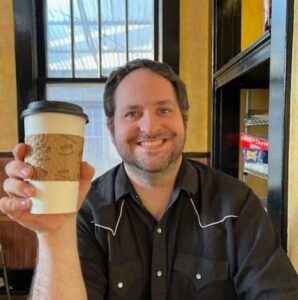 Bio:
David L O'Nan is a poet, short story writer, prose & lyricist, an editor living in Southern Indiana. He is founder and lead editor for Fevers of the Mind Poetry, Art & Music. He has edited & curated anthologies under Fevers of the Mind (7 volumes) since 2019 in addition to anthologies inspired by and dedicated to Leonard Cohen (Avalanches in Poetry & Before I Turn Into Gold), Bob Dylan (Hard Rain Poetry: Forever Dylan), Joni Mitchell (The Blue Motel Rooms Poetry & Art) Tom Waits (The Whiskey Mule Diner), The Poetica Sisterhood of Sylvia & Anne (poetry & art inspired by Sylvia Plath & Anne Sexton), On the Highways with Many Miles…to Go! (poetry & art inspired by Jack Kerouac, Townes Van Zandt, Miles Davis, Langston Hughes, etc), Waltzin' Through Rusty Cages (inspired by Elliott Smith & Chris Cornell), The website is

www.feversofthemind.com

He also has solo works "The Famous Poetry Outlaws are Painting Walls and Whispers" "The Cartoon Diaries", "New Disease Streets", "Our Fears in Tunnels", "Taking Pictures in the Dark", "Bending Rivers: A Collection","Lost Reflections" (micropoems), "Before the Bridges Fell" (2022), & "Cursed Houses" (2022) his work can be found in several litmags and books.
Twitter/X is @davidLONan1 and for Fevers of the Mind is @feversof and Facebook is the
Fevers of the Mind Poetry, Arts & Music Group.