Gestation


I want to capture a poem;
                   There are thousands swirling
				In my midnight room.

I stalked one into the kitchen
	Where it joined me for a graham cracker
And peanut butter sandwich (crunchy style)
		Along with a fistful of Fritos.

Back in bed,

One shared my pillow and asked ridiculous questions like—
		What is the first name of Aristotle?
And…..
			Why the hell do you keep doing this?
		
		I am in deep desire for the orgasmic climax
Of a poem sought and seduced
			I		nto a stand still
While these dervish lines flying 
			Around my room avoid me, yet tease with 
Flash glimpsed images. 

There is no satiety without the sentences lying
		Layer by layer on a page
				Like the blankets on this bed of torture
Where the very best my mind can muster
							Escapes 
				Before congealing into meaning.

I sift through a thousand partial pictures looking
			 		For that nascent combination of words
	That will condense, make sense and lead to
				Parturition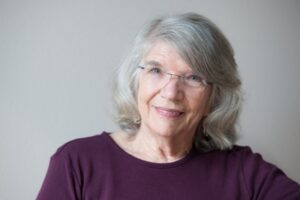 Bonnie Bostrom has been writing poetry since she mastered cursive. She has published eight books, both solo and in collaboration: The WayShowers, Women Facing Retirement: A Time For Self-Reflection, Quicksilver Dreams, Buddha Nature of the Soutwest, Image & Word: A Dialectic, Born Crazy, Love, Always Love, and Duet. Born Crazy, a memoir, received an Eric Hoffer Finalist Award. She lives in New Mexico with her husband, Jim. Her website is www.bonniebostrom.com.








Robin Ouzman Hislop is Editor of Poetry Life and Times at Artvilla.com ; You may visit Aquillrelle.com/Author Robin Ouzman Hislop about author & https://poetrylifeandtimes.com See Robin performing his work Performance (University of Leeds)