Silver Primroses & Golden Strigiformes Planted by the Curb

Carrying your own 
          dead body
                back to its grave
      in a dream
                 then happening upon
          an expired owl
                              stricken & smashed
                        in the street

Ominous signs
        along Five Forks Trickum
            birth into
                patterns of indigo 
                                  & scarlet wildflowers
                       
Spirit animals
             taking a dive
       before rush hour fevers
                        commence
        
    learn to sip
              from the parched throat
        of roadkill brunch

eating the 
        organs
   of our own
               totem


Stomach Lining

I came to eat the lies you coin

and serve them back half bitter
across the divide of tables turned

I didn't ask for this evil eye

it was forced down my throat from the jump
been begging for a bulimic leap ever since


Spells of the Stoic Pewter 

& I will
        set you (free) here
    to be made safe by the wizard / window
                                                 (fly, birdie)
               black obsidian
                     gray of mind & beard
             wise & dangerous
                     streaked/laced down the middle
                                    balanced of accord
                                           (harmony 
                                                  & likewise
                                               rhythm)

you are the melody of a soft glow


Lament of Prey

Hello to all the hawks
who have yet to have their fill,
& the vultures, too,
waiting for what's left over.

Spoiled minds & spoiled hearts
lead to spoiled guts,
but it seems to be
that's what nature intended
in this twisted realm
of divided time & space.

Dog eat dog
isn't even the worst part;
it's flesh unto flesh
in the fire.

Goodbye to all the dreams
that forgot how to conquer,
& the visions still
yet to crystallize in cancer.

Rotten bones & rotten marrow
flow in rotten rivers,
but that's the taste
acidic blood delivers
when signs of sickness
flash neon & electric in the night.

Tail chase tail
isn't the end of the story;
it's a snake that never sheds
the fade to black.


Kingdom of Chaos

We don't want your money,
just your soul
on a silver platter
served to order
for our warm feast
while we spit out your raw famine.

We don't want your respect,
just your energy and time,
just your mind
numbed
to the frequency
of propagandized pestilence.

We don't want your love,
just your heart
bled dry
as every vein
withers in the winter wind
while our chalice remains
ever full to the point of overflowing.

We don't want your vote,
just your faith
that such a course of action
can actually influence
the order in which our puppets
dance to a song of chaos
upon the public stage.

We don't want your salute,
just your obedience,
just your hands
kept where we can see them
while your feet continue marching
to the drumbeat of our wars.

We don't want your laws,
just your land,
just your culture,
just your customs,
just your heritage,
just your traditions
snuffed out
beneath the global kingdom
collectivized
at our command.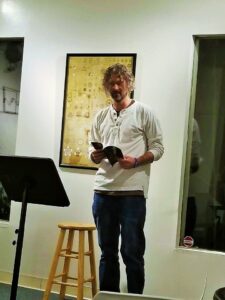 Scott Thomas Outlar is originally from Atlanta, Georgia. He now lives and writes in Frederick, Maryland. His work has been nominated multiple times for both the Pushcart Prize and Best of the Net. He guest-edited the Hope Anthology of Poetry from CultureCult Press as well as the 2019-2023 Western Voices editions of Setu Mag. He is the author of seven books, including Songs of a Dissident (2015), Abstract Visions of Light (2018), Of Sand and Sugar (2019), and Evermore (2021 – written with co-author Mihaela Melnic). Selections of his poetry have been translated and published in 14 languages. He has been a weekly contributor at Dissident Voice for the past nine years. More about Outlar's work can be found at 17numa.com