Mountain Bird and Loquat

Chinese mountain bird's white belly hungers for sweet,
the fragrant yellow loquat magnets him.
Steady perched midst fragile gnarled branches,
near enough to feed,
yet he wavers uncertain,
black eyes quick dart all round
ever mindful,
ever searching
lest he fall prey.
He longs for safety of nest
but loquat's aroma and sun-yellowed color again call.
Bravely he beaks through downy, red-blushed skin
emboldened by succulent, tangy sweet white-yellow flesh
he repeats until full.
Now soars skyward to home
readies for night
while broken, sun-yellowed loquat remains
exposed brown seeds weep ever earthward
sacrificial in dimmed light.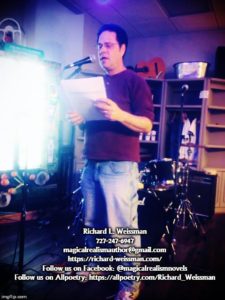 Bio:

Richard L Weissman has written fiction since 1987.
In 2000, his theatrical play, "The Healing" was selected by Abdingdon Theatre for a staged reading Off-Broadway.
Richard is the author of two Wiley Trading titles. His second book, Trade Like a Casino was selected as a Finalist for the 2012 Technical Analyst Book of the Year Award.

In 2016, Mr. Weissman completed his historical novel in the tradition of magical realism, "Generations".

In 2020 his poem, "Mountain Bird and Loquat" was selected as the grand prize winner of the Florida Loquat Literary Festival.

In addition to hosting, "In Our Craft or Sullen Art" – a biweekly poetry radio talk show, Richard participates in live spoken word events throughout the U.S. https://richard-weissman.com/
on Facebook: @magicalrealismnovels








Robin Ouzman Hislop is Editor of Poetry Life and Times at Artvilla.com ; You may visit Aquillrelle.com/Author Robin Ouzman Hislop about author & https://poetrylifeandtimes.com See Robin performing his work Performance (University of Leeds)