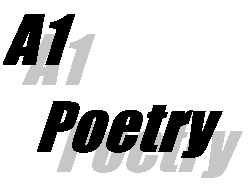 Apoem a day into the millennium
15 October 1999
RIPPLES MADE OFGRAINS
Death, be not proudof me,
I go the way liliesdo,
Or trout among theweeds.
I am the song ofsandy rivers,
Winding slowestwhere the banks are muck,
Or slower stillin the adjoining bays,
Where stagnationends in dreams,
And the visions,like wings of egrets,
Do rise, and rise,and rise away...
The burrowing clam,
Or the schools ofminnows, parched,
Make wondrous fossils,
And the slates aresometimes cleaned,
By blowing frost,rampaging rainfalls,
And the winds areall of one desire, here!
- Michael Eliseuson
archives