Fearful of the imminent decay of the old manuscript
investigator of lives passed into a flaky tomb of dust and rust
still in the weight of a moment of hesitant courage
he contemplates the spine broken as that of an ancient fresco.
Freely offered to the avid devourer of sleeping passions
the pages gently curve, palimpsests in the light breeze
of an ante chamber gaping to the treasures of the fortress
illuminations shine in the dim hours of dusk mirror of another.
A sweet flutter pierces the realm to suggest an awakening
as in a stage darkness entombs useless space all around
not even a breath can be heard, not a rumble of a heart
in an excess of life, it appears death conquers the instant.
Hypnotized by the tale told in a murmur to his soul
he longs to join hands in prayer and dive deep within
before, aware of his presence, she seals the gate
left open likely in error when she felt safe in her cage.
Arched outward the velum calls for his foreign touch
so vulnerable to the violent attacks of a cruel reality
it desires to break all bridges to hold him captive and
dissolve him with the universal dreams and make a new world.


Fabrice B. Poussin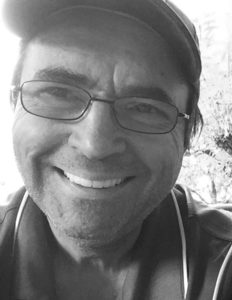 Fabrice Poussin teaches French and English at Shorter University. Author of novels and poetry, his work has appeared in Kestrel, Symposium, The Chimes, and dozens of other magazines. His photography has been published in The Front Porch Review, the San Pedro River Review as well as other publications.






Robin Ouzman Hislop is Editor of Poetry Life and Times his publications include All the Babble of the Souk and Cartoon Molecules collected poems and Key of Mist the recently published Tesserae translations from Spanish poets Guadalupe Grande and Carmen Crespo visit Aquillrelle.com/Author Robin Ouzman Hislop about author. See Robin performing his work Performance (Leeds University) .