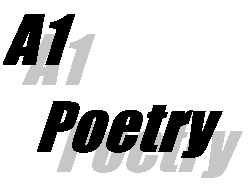 A Poem a Day to Millennium 18 September 1999
TURN THE STONE
For it's all in what a child sees
the trick so cold alone
with seasons gone he won't be long
his heart just turned to stone
turned the stone.
The times they've spanned a million tears
a guest...a chair his home
no reasons heal the pain he feels
for the things he must atone
turn the stone.
Yet he walks on through the dimmer part
of his anxious moon of hearts
dancing in dew light
as he spins his frozen cares to the start
turn the stone.
He will search for what is written
the Book...this too shall pass
forgetting that it's over
nothing always lasts
turn the stone.
So what's it going to take dear one
to see the light from the side you're on
must he die to prove it is art or life
buried by the lie
turn the stone.
Break free just let it be
no words within disguise
blind not free afraid to be
alone with all that ever was...arise
turn the stone.
Love is lost that has no home
no reason to be
no room for hopes and prayers asked
till love is what we seek
turn the stone.
turn the stone.

- Craig J. Holme


archives