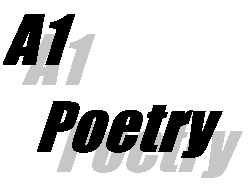 A Poem a Day to Millennium 19 September 1999
BURNING QUESTIONS
I am the cracked and crusty glaze
On a stale doughnut,
Fog surrounding a halted car,
Toilet paper stuck to a shoe.
Caught in a slow motion dream.
Straining against gravity.
Running...from what?
The question burns:
Love Aliveness Feelings
Burrowed long ago
To visceral caverns.
Gust, blood, bone
Indicate humanity
Yet the concept,
In its fullness, eludes.
This netherzone provides
No doorways lit
With exit signs.
Prisoners too tired to grope
Succumb to the darkness.
They whimper in corners.
Half truths and faded insight
Permeating squeaky whispers.
I am the bleeding soldier
Praying for rescue,
The writer straining at night
Under a candle's
Spit and sputter,
The last winter rose
Wrapped tight against cold winds,
A wisp of color
On a brief gray day -
Amazing in Fortitude,
Unfortunate in timing.
Bear with me if you care;
Perhaps one day
The splendid young maiden
Now trapped in the vacuum
May find her way to
Green fields of clover
And run like a deer
In crystal sunlight,
Laughing, again.
- Carla DeMarco

archives