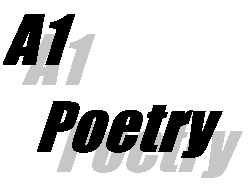 July 22, 1999
Poem from Uncle River

AFTER THE PRETZELS MELT
I do not care to hear yet further
Twists and tangles and delectable perversities
Of the decadent world. No longer fascinating,
No longer shocking, still scary and amazingI
Suppose, it's mostly just tiresome to livewith.
I want to know something else. Where do
Pecans and the wind come from? They
Do, you know. And what will you or I do
If we are not dead when the decadent worlddoes die,
No longer to produce opulence of such
High quality garbage on which to live.
When no one is turning out used mittens,
Second quality pizza crusts, or retread knees.
What happens when the old people all have
Hydraulic-failed hips that drop them
On their asses and Swiss cheese memories,and
The young people have all been forbidden bylaw
From becoming competent at anything, and credentials,
Medicaid, and Social Security have all turnedto
Soft pretzels in a Radio City rain?