Thank
you
for
visiting.......



Prometheus: the autobiography
THE LEFT FOOT OF BREATH
Our humanity is neither identical with
Nor a negation of our divinity.
Of course we screw up,
Misplace truth and our left foot.
Nonetheless, each breath
Refreshes the flavor of our Creator.
Self-contradiction both obscures
And illuminates the Tao.
---
New:
Berlin Wall Of Heaven Drought Palace Radish Seeds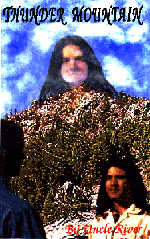 Review of Uncle River's novel Thunder Mountain