Teetering Toward Sattva

My friend's mother would tell him, I created 
you and I can destroy you, as though, like Parvati
with Ganesh, she had literally made him
from a mixture of earth and her perspiration, brought
him to life with her breath. Śaivasampradāyaḥ believe 
Shiva is the creator, preserver, and destroyer
of the cosmos. Does that mean mothers

are his avatāra and children their miniature
multiverses? I wouldn't know. I'm not a mother. Mine
may have been a god to me when I was little
(it's likely she was) but I remember her 
as my universe. One I destroyed over and over
with the choices I made, huddled and weeping
and bereft, my days-old sweat a blend of scotch

and cigarettes and dirt from the alleys where I
crouched for decades. Now those years have passed
and so has she. Neither creator nor destroyer,
she preserved her dreams for/in me and I live them 
with her hands, callused, dry-darkened
at the knuckles, soft, cool. They wash away the grime
so I can live for today. So I can live for us both. 
So I can live.


Anteyesti
to Anay


Your body burns
as your mother weeps
her son into a letter.
I read it, edges 
fluttering in the summer 
wind like wings, like the ashes 
we scatter
in the canyon's river. She asks
why you wanted to melt
into memory, fleeting 
desert snow beneath
the sun of our hot grief.
And in that brutal 
light, she begs 
for rain to swoop down
and flood her cracked earth.


(… As We Know It)
  Reset: Kritayuga Begins Again


When the apocalypse
comes what becomes
of the astronaut who floats
in the space station and sees
the sun as it really is – a silvery
white flare, incandescent
as fireworks arching over
our greening blue Earth?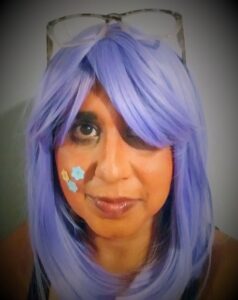 Kalpita Pathak is an autistic poet, novelist, and advocate with a passion for research and sensory-rich details. Her work tends to explore the perseverance of hope in a sometimes despairing world, with a little dark humor and magic added to the mix. She received the James Michener Fellowship for her MFA in creative writing and has taught at both the college level and in school programs for kids from three to eighteen. She has recently been published in Mediterranean Poetry.