The truth whispers,
''a happy heart can't discriminate
between a crow and a cuckoo''
making me an example
as I'm quite happy
from top to bottom,
so unmindful to the conflict
between macro and micro
as all is well to my swelled generosity.
My mirror is happy
so blissful to reflect the same images
of Dr. Jekyll and Mr. Hide.
My bed room is also happy
in making innocuous adjustment
among its ever-changing components-
authorized and unauthorized
or open and hidden
and dutiful always to cover
my demand up for extra-amusement.
My spiritual master withdraws happily
his imposed prohibitions
on my free movement
and leaves my free domain
saying,
''I'm truly needed to an unhappy only''.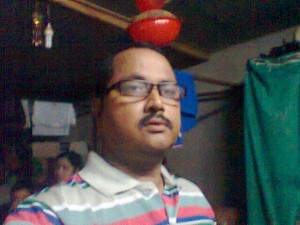 Pijush Kanti Deb is a new Indian poet with around 261 published or
accepted poems and haiku in around 90 nos of national and
international magazines and journals [,print and online] like Down in
the dirt, Tajmahal Review, Pennine Ink, Hollow Publishing, Creativica
Magazine, Muse India, Teeth Dream Magazine,Hermes Poetry Journal, Grey
Borders, Dagda Publishing, Blognostic Black Mirror Magazine,
Dissident Voice Journal , Indiana Voice Journal Aji Magazine Calliope
Magazine, Leaves of Ink Magazine and many more.
His best achievement so far is the publication of his first poetry
collection,''Beneath The Shadow Of A White Pigeon''published by Hollow
Publishing is available on AMAZON.


www.facebook.com/PoetryLifeTimes
www.facebook.com/Artvilla.com
[email protected]
[email protected]


http://www.aquillrelle.com/authorrobin.htm
http://www.amazon.com. All the Babble of the Souk. Robin Ouzman Hislop
www.lulu.com. All the Babble of the Souk. Robin Ouzman Hislop