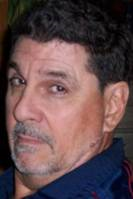 'Desperate Seeker' is an unpublished poetry collection that uncovers the anger, fear and horror that resounds in the powerful struggle of existence.

i.

Deception of the Arts

The rigors of science
became too demanding
for unwilling students
unprepared for effort,
conditioned by tv
to passive response
to the learning process.
But Americans believed
in higher education,
a cultural imperative
propounded by their fathers
who left the blue-collar class
by attending college,
then wearing suits to work.

Competing colleges
obliged unmotivated hordes
by inventing liberal arts,
a superficial taste
of various subjects,
an opportunity
to find a direction
by sampling career choices.
And millions got degrees
that left them unqualified
for any profession,
but they were educated,
deluded into thinking
they were functional.

Then the real world reared its head
and illusions melted away
leaving tedious employment,
a poor consolation
for shattered expectations.
So they worked resentfully
deprived of luxury
offered tantalizingly
by bigger and bigger tvs
colorfully displaying
what they could only afford
by purchasing on credit
and going into debt.

The best of the liberal arts tribe
taught in inner city schools,
brought social services
to those in desperate need,
yet as our population increased
math and science were neglected,
inventiveness began to fade,
a plague of lawyers roamed the land
expending enormous energy
promoting the concept of lawsuits
to dissatisfied citizens
guided by clever exploiters
to courtrooms of contention
seeking compensation
for the loss of loved ones,
grief replaced by greed.

The owners of America
contributed a system
that brainwashed our youngsters
with high moral concepts,
democracy, equality,
removed from their reality
by the vast economic gap
between haves and have nots,
yet many of them believed
they were as good as anyone else,
until the fragile line of credit
suddenly evaporated,
smashing family security
providing no consolation
in the liberal arts.

ii.

Nurturing Gap

Alienation blossoms
faster than comfort
in fractured homes,
roles eroded
by changing society,
television parent
unable to give
preparation to prevent
future confusion.

iii.

Street People VI

I sit indoors
sheltered from rain
watch from my window
city procession
workers, shoppers, tourists,
barely functional homeless,
as intent on arrivals
as the passersby,
lacking urgency,
achieving destination
without comforts.

iv.

Fading Glory

American holidays
retain popularity
on special occasions
with gifts, or fireworks,
more and more forgetting
memorable battles,
our soldier's sacrifices,
too easily distracted
by internet diversions.

v.

Noblesse Obligé

Declining empires
frequently abandoned
their troops abroad
when they couldn't maintain
the exercise of power.
The British pioneered
bringing the troops home,
setting an example
for fading America
not to desert
young men and women
doing their duty,
risking their lives
in foreign lands.


Gary Beck has spent most of his adult life as a theater director, and as an art dealer when he couldn't make a living in theater. He has 11 published chapbooks and 3 more accepted for publication. His poetry collections include: Days of Destruction (Skive Press), Expectations (Rogue Scholars Press). Dawn in Cities, Assault on Nature, Songs of a Clerk, Civilized Ways, Displays, Perceptions (Winter Goose Publishing). Fault Lines, Tremors, Perturbations, Rude Awakenings and The Remission of Order will be published by Winter Goose Publishing. Conditioned Response (Nazar Look). Resonance (Dreaming Big Publications). His novels include: Extreme Change (Cogwheel Press) and Flawed Connections (Black Rose Writing). Call to Valor will be published by Gnome on Pigs Productions and Acts of Defiance will be published by Dreaming Big Publications. His short story collection, A Glimpse of Youth (Sweatshoppe Publications). Now I Accuse and other stories will be published by Winter Goose Publishing. His original plays and translations of Moliere, Aristophanes and Sophocles have been produced Off Broadway. His poetry, fiction and essays have appeared in hundreds of literary magazines. He currently lives in New York City.


www.facebook.com/PoetryLifeTimes
www.facebook.com/Artvilla.com
[email protected]
[email protected]

goodreads.com/author/show/Robin Ouzman Hislop
http://www.aquillrelle.com/authorrobin.htm
http://www.amazon.com. All the Babble of the Souk. Robin Ouzman Hislop
www.lulu.com. All the Babble of the Souk. Robin Ouzman Hislop
https://www.amazon.com/author/robinouzmanhislop
http://www.innerchildpress.com/robin-ouzman-hislop.All the Babble of the Souk