Komm, Du ("Come, You")

by Rainer Maria Rilke
loose translation by Michael R. Burch

This was Rilke's last poem, written ten days before his death. He died open-eyed 
in the arms of his doctor on December 29, 1926, in the Valmont Sanatorium, 
of leukemia and its complications. I had a friend who died of leukemia and he was 
burning up with fever in the end. I believe that is what Rilke was describing here: 
he was literally burning alive.

 
Come, you—the last one I acknowledge; return—
incurable pain searing this physical mesh.
As I burned in the spirit once, so now I burn
with you; meanwhile, you consume my flesh.

This wood that long resisted your embrace
now nourishes you; I surrender to your fury
as my gentleness mutates to hellish rage—
uncaged, wild, primal, mindless, outré.

Completely free, no longer future's pawn,
I clambered up this crazy pyre of pain,
certain I'd never return—my heart's reserves gone—
to become death's nameless victim, purged by flame.

Now all I ever was must be denied.
I left my memories of my past elsewhere.
That life—my former life—remains outside.
Inside, I'm lost. Nobody knows me here.

Komm du

Komm du, du letzter, den ich anerkenne,
heilloser Schmerz im leiblichen Geweb:
wie ich im Geiste brannte, sieh, ich brenne
in dir; das Holz hat lange widerstrebt,
der Flamme, die du loderst, zuzustimmen,
nun aber nähr' ich dich und brenn in dir.
Mein hiesig Mildsein wird in deinem Grimmen
ein Grimm der Hölle nicht von hier.
Ganz rein, ganz planlos frei von Zukunft stieg
ich auf des Leidens wirren Scheiterhaufen,
so sicher nirgend Künftiges zu kaufen
um dieses Herz, darin der Vorrat schwieg.
Bin ich es noch, der da unkenntlich brennt?
Erinnerungen reiß ich nicht herein.
O Leben, Leben: Draußensein.
Und ich in Lohe. Niemand der mich kennt.


Liebes-Lied ("Love Song")

by Rainer Maria Rilke
loose translation/interpretation by Michael R. Burch

How can I withhold my soul so that it doesn't touch yours?
How can I lift mine gently to higher things, alone?
Oh, I would gladly find something lost in the dark
in that inert space that fails to resonate until you vibrate.
There everything that moves us, draws us together like a bow
enticing two taut strings to sing together with a simultaneous voice.
Whose instrument are we becoming together?
Whose, the hands that excite us?
Ah, sweet song!

Liebes-Lied

Wie soll ich meine Seele halten, daß
sie nicht an deine rührt? Wie soll ich sie
hinheben über dich zu andern Dingen?
Ach gerne möcht ich sie bei irgendwas
Verlorenem im Dunkel unterbringen
an einer fremden stillen Stelle, die
nicht weiterschwingt, wenn deine Tiefen schwingen.
Doch alles, was uns anrührt, dich und mich,
nimmt uns zusammen wie ein Bogenstrich,
der aus zwei Saiten eine Stimme zieht.
Auf welches Instrument sind wir gespannt?
Und welcher Geiger hat uns in der Hand?
O süßes Lied. 


Das Lied des Bettlers ("The Beggar's Song")

by Rainer Maria Rilke
loose translation/interpretation by Michael R. Burch

 
I live outside your gates,
exposed to the rain, exposed to the sun;
sometimes I'll cradle my right ear
in my right palm;
then when I speak my voice sounds strange,
alien ...

I'm unsure whose voice I'm hearing:
mine or yours.
I implore a trifle;
the poets cry for more.

Sometimes I cover both eyes
and my face disappears;
there it lies heavy in my hands
looking peaceful, unafraid,
so that no one would ever think
I have no place to lay my head.

Das Lied des Bettlers

 
Ich gehe immer von Tor zu Tor,
verregnet und verbrannt;
auf einmal leg ich mein rechtes Ohr
in meine rechte Hand.
Dann kommt mir meine Stimme vor,
als hätt ich sie nie gekannt.

 
Dann weiß ich nicht sicher, wer da schreit,
ich oder irgendwer.
Ich schreie um eine Kleinigkeit.
Die Dichter schrein um mehr.
Und endlich mach ich noch mein Gesicht
mit beiden Augen zu;
wie's dann in der Hand liegt mit seinem Gewicht
sieht es fast aus wie Ruh.
Damit sie nicht meinen ich hätte nicht,
wohin ich mein Haupt tu. 



BERTOLT BRECHT

Die Bücherverbrennung ("The Burning of the Books")

by Bertolt Brecht
loose translation/interpretation by Michael R. Burch

When the Regime
commanded the unlawful books to be burned,
teams of dull oxen hauled huge cartloads to the bonfires.

Then a banished writer, one of the best,
scanning the list of excommunicated texts,
became enraged: he'd been excluded!

He rushed to his desk, full of contemptuous wrath,
to write fiery letters to the incompetents in power —
Burn me! he wrote with his blazing pen —
Haven't I always reported the truth?
Now here you are, treating me like a liar!
Burn me!

Die Bücherverbrennung

Als das Regime befahl, Bücher mit schädlichem Wissen
Öffentlich zu verbrennen, und allenthalben
Ochsen gezwungen wurden, Karren mit Büchern
Zu den Scheiterhaufen zu ziehen, entdeckte
Ein verjagter Dichter, einer der besten, die Liste der
Verbrannten studierend, entsetzt, daß seine
Bücher vergessen waren. Er eilte zum Schreibtisch
Zornbeflügelt, und schrieb einen Brief an die Machthaber.
Verbrennt mich! schrieb er mit fliegender Feder, verbrennt mich!
Tut mir das nicht an! Laßt mich nicht übrig! Habe ich nicht
Immer die Wahrheit berichtet in meinen Büchern? Und jetzt
Werd ich von euch wie ein Lügner behandelt! Ich befehle euch:
Verbrennt mich!


Der Abschied ("The Parting")

by Bertolt Brecht
loose translation/interpretation by Michael R. Burch

We embrace;
my fingers trace
rich cloth
while yours encounter only moth-
eaten fabric.
A quick hug:
you were invited to the gay soiree
while the minions of the "law"
relentlessly pursue me.
We talk about the weather
and our eternal friendship's magic.
Anything else would be too bitter,
too tragic.

Der Abschied

 Wir umarmen uns.
Ich fasse reichen Stoff
Du fassest armen.
Die Umarmung ist schnell
Du gehst zu einem Mahl
Hinter mir sind die Schergen.
Wir sprechen vom Wetter und von unserer
Dauernden Freundschaft. Alles andere
Wäre zu bitter


Die Maske des Bösen ("The Mask of Evil")

by Bertolt Brecht
loose translation/interpretation by Michael R. Burch

A Japanese woodcarving hangs on my wall—
the mask of an ancient demon, limned with golden lacquer.
Not unsympathetically, I observe
the forehead's bulging veins,
the tremendous strain
such malevolence requires.

 Die Maske des Bösen

 An meiner Wand hängt ein japanisches Holzwerk 
Maske eines bösen Dämons, bemalt mit Goldlack.
Mitfühlend sehe ich / 
Die geschwollenen Stirnadern, andeutend 
Wie anstrengend es ist, böse zu sein. 

  
ON LOOKING AT SCHILLER'S SKULL

by Johann Wolfgang von Goethe
loose translation/interpretation by Michael R. Burch

 
Here in this charnel-house full of bleaching bones,
like yesteryear's
fading souvenirs,
I see the skulls arranged in strange ordered rows.

Who knows whose owners might have beheaded peers,
packed tightly here
despite once repellent hate?
Here weaponless, they stand, in this gentled state.

These arms and hands, they once were so delicate!
How articulately
they moved! Ah me!
What athletes once paced about on these padded feet?

Still there's no hope of rest for you, lost souls!
Deprived of graves,
forced here like slaves
to occupy this overworld, unlamented ghouls!

Now who's to know who loved one orb here detained?
Except for me;
reader, hear my plea:
I know the grandeur of the mind it contained!

Yes, and I know the impulse true love would stir
here, where I stand
in this alien land
surrounded by these husks, like a treasurer!

Even in this cold,
in this dust and mould
I am startled by a strange, ancient reverie, ...
as if this shrine to death could quicken me!

One shape out of the past keeps calling me
with its mystery!
Still retaining its former angelic grace!
And at that ecstatic sight, I am back at sea ...

Swept by that current to where immortals race.
O secret vessel, you
gave Life its truth.
It falls on me now to recall your expressive face.

I turn away, abashed here by what I see:
this mould was worth
more than all the earth.
Let me breathe fresh air and let my wild thoughts run free!

What is there better in this dark Life than he
who gives us a sense of man's divinity,
of his place in the universe?
A man who's both flesh and spirit—living verse!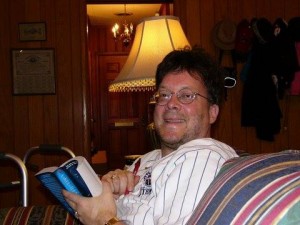 Michael R. Burch is an American poet who lives in Nashville, Tennessee with his wife Beth and two incredibly spoiled puppies. He has over 6,000 publications, including poems that have gone viral. His poems, translations, essays, articles, letters, epigrams, jokes and puns have been published by TIME, USA Today, BBC Radio 3, Writer's Digest–The Year's Best Writing and hundreds of literary journals. His poetry has been translated into 14 languages, taught in high schools and colleges, and set to music by 23 composers, including two potential operas if the money ever materializes. He also edits www.thehypertexts.com, has served as editor of international poetry and translations for Better Than Starbucks, is on the board of Borderless Journal, an international literary journal, and has judged a number of poetry contests over the years.