http://www.aquillrelle.com/authorrobin.htm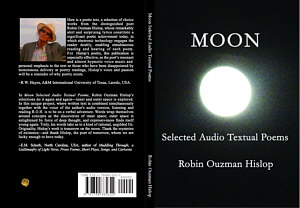 reducto anagramatico sunday afternoon 1915 wallace stevens

come give balm to the gusty grieving
nights to hush day green the seas
for her dark oranges bloom an

indifferent inhuman evening
of cherished comfort and wings
like wide complacencies

but next moves in mythy gat motions
among any hind's heaven or paradise
& cries cause the sun's littering

our afterwards river sky relinquish
the mountains and whistle in her porch
death still the imperishable inescapable

for receding boughs to wear sleeplessly
the sun colours to hang of sky bosom
serafin plum the perfect rivers the hills

the lay sky paths that live impassioned
upon grass phrases in extended cries over
her peignoir and coffee upon blood calm




Robin Ouzman Hislop is on line Editor at Poetry Life & Times at Artvilla.com. His numerous appearances include Cold Mountain Review (Appalachian University, N.Carolina), The Honest Ulsterman, Cratera No 3 and Aquillrelle's Best. His publications are collected poems All the Babble of the Souk, Cartoon Molecules, Next Arrivals & Moon Selected Audio Textual Poems and translations from Spanish of poems by Guadalupe Grande Key of Mist and Carmen Crespo Tesserae (the award winning XIII Premio César Simón De Poesía). In November 2017 these works were presented in a live performance at The International Writer's Conference hosted by the University of Leeds, UK. A forthcoming publication of collected poems Off the Menu is expected in 2020.