Life:
The tear,
The sigh,
The twinkle in the eye.
The whisper,
The wrinkle,
The silent, true story
You and I survive.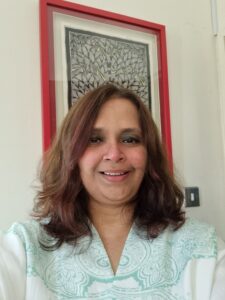 Amita Sanghavi writes poetry, teaches at university and loves to visit art galleries and museums.She teaches English at Sultan Qaboos University, Muscat Oman. An is MA from Lancaster University, UK, she is pronounced Ambassador of Poetry to Oman by World Poetry, Canada and Representative of Immages&Poetry Art Movement, Italy and Affilate Researcher at CELCE University of Leeds, UK.
Her poetry book "Lavender Memories" and two edited poetry anthologies were published in 2018, 2020 and 2021 respectively. Her latest book s 'Astad Deboo: Poetry in Dance'








Robin Ouzman Hislop is Editor of Poetry Life and Times at Artvilla.com ; You may visit Aquillrelle.com/Author Robin Ouzman Hislop about author & https://poetrylifeandtimes.com See Robin performing his work Performance (University of Leeds)