1]
The Rain-Wet Rats
 
She bathed in cold fire which softly sterilized
Her fitful thoughts circling constantly
Back to what gets lost, what set free, 
Gently startled, but not at all surprised.
The cold front rattles in with peevish rain
Concealed by darkness in the morning chill
But nudging at the mind as hostile specters will,
Cold drops rattling like a fatal chain.
 
Can she be easy regulating the fates
Of two dozen dirty peasants with staring eyes
And rusty pitchforks, furious at lies,
Shrieking in the rain outside her gates?
 
Is risk or safety the best choice to make?
The rain outside keeps rattling like a snake.
 
The rafters of civilization broke that day,
And all the rain-wet rats nimbly raced
Away like greyhounds, all order displaced,
And she ducked aside to hide out of the way.
Thunder crashed, as it were, and she
Smiled secretly and thought of my face
Aping consternation ludicrously.
 
2]
Symbolist Gunslinger Purges His Vocabulary
 
Lovely ladies, decked with smiles and flowers,
Dissolve all war and ugliness generously,
Gently repudiating suspicion, hostility,
Disarming all the cowboys' macho powers.
Let sunshine warm where desert heat once dried.
Let kindness soothe the pain of outraged minds
And cool the excessive heat that burns and blinds.
Let understanding leave rough men satisfied.
For this is a magic, a witchcraft you yield,
Medea, Medusa, Miranda, Antigone,
Criseyde, Duessa, at times ferociously,
And Judith, and the fair witch I once met
Upon the meads, whose ring I wear within
My blood-curdled heart, and will wear when
Chariots descend to collect my fatal debt.
Lovely ladies, let the world spin away
Its grief, let conflict fire our blessed sunlight,
Let the right simplicity be ours today,
And the right words bless our witless dreams tonight.
 
3]
Jukebox Catullus Hums and Strums
 
I can't stop playing Banquo's ghost,
And blood runs everywhere each time I twitch,
And somewhere my corpse is bleeding in a ditch,
And you're still indifferent to who loves you most
Despite this commitment, this dramatic dedication
Here on these boards where happy endings hide
From murdered noblemen with broken hearts inside
And no luck in erotic conversation.
May I venture an aside, though I should leave the stage?
Let no ghost be dishonored, or his staring eyes
Will plunder your heart in midnight surprise.
Enough.  The mad Queen calms the murderer's rage.
The curtain never falls for the players in this trade;
We wait to spring the traps the poet made.
 
4]
The Right Reply for Second-Hand Fear
"Now time's Andromeda on this rock rude…"
			--Hopkins
 
A delicate matter prevented her revenge:
Madame Alving was, at that time, at least,
(Delicious pause) Andromeda waiting for the beast,
Long-legged bait a gate to unhinge,
A passage of a champion of the stage,
Sic semper tyrannis the cry of the day,
Cooing doves flapping wings to fly away,
And the old monster's dilapidated rage,
Bursts forth though in need of upholstery,
Roaring his regrettably wheezy roar
To remind us what monsters are onstage for,
And everyone fake-quakes, all but she,
For she smiles somewhat palely with that fire in her eyes,
And waves a hand defensively without fear,
For she knows who and what is scary here
And what is God's truth and what the Devil's lies.
That steady fire grows, its intensity stays,
However much your maudlin monster weighs.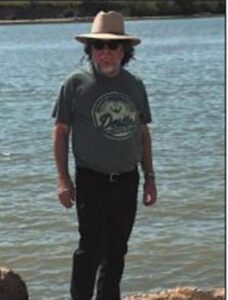 R. W. Haynes, Professor of English at Texas A&M International University, has published poetry in many journals in the United States and in other countries. As an academic scholar, he specializes in British Renaissance literature, and he has also taught extensively in such areas as medieval thought, Southern literature, classical poetry, and writing. Since 1992, he has offered regular graduate and undergraduate courses in Shakespeare, as well as seminars in Ibsen, Chaucer, Spenser, rhetoric, and other topics. In 2004, Haynes met Texas playwright/screenwriter Horton Foote and has since become a leading scholar of that author's remarkable oeuvre, publishing a book on Foote's plays in 2010 and editing a collection of essays on his works in 2016. Haynes also writes plays and fiction. In 2016, he received the SCMLA Poetry Award ($500) at the South Central Modern Language Association Conference In 2019, two collections of his poetry were published, Laredo Light (Cyberwit) and Let the Whales Escape (Finishing Line Press).