THE BALLAD OF FACEBOOK
(a musical in the making) 
by Sara L Russell 26th Jan '23 at 21:19

Introduction

Oh babes I feel so bored, what can I do?
I think I'll go on Facebook for a few…

Part 1: Flakes and Fakes

Like me like me
go on and like me
'cause I'm fluffy 
and I have a new book out

'cause I posted 
a photo 
of myself as a kid
when I had a rather fetching pout

I'm far more fascinating than you'll ever know
look, here's my back lawn when it was buried in snow
here's a lunchtime selfie of my latest dish
here's me next to some old photoshopped bitch

Oh but there's a blonde strolling by the Tiber
with her two perfect little blond boys
A golden sunrise smouldering behind her
You can almost smell the spices, hear the noise

Ya this is me walking like a tiger
by some Indian river, with the boys, 
Oh I think someone just told me it's the Tiber
The smell was like, much grosser than the noise.

But ya thanks for the comments, all my darlings
My likes have rocketed to fifty K
I've traded up, flamingos for the starlings
And I'm having awesome nookie every day!

For all the nobodies never make my heart bleed
For I have a blog they never bother to read


Part 2: Catfish and Chips

Like me, like me
be smart and like me
'cause I have everything 
your kitchen needs

You look like a munter
more than likely 
'cause your face mask
dosesn't have Nigella seeds

We're making greater riches than you'll ever have
by making romance pitches to some lonely chav
And if you don't have Bitcoin you can buy it here
Just invest and watch your savings disappear

Oh but there's a lonely heart playing poker
She's ripe to be groomed for romance
She wants a king, but here's a joker
we'll lead her on the merriest dance

Ya this is me sailing on my dinghy
Ya I love you, even though you're ninety three
The customs officer's trying to sting me
Please send me forty smackers urgently

Oh they don't give a monkey's if you're sad or bereaved
Tell it to your bank and you will not be believed …


Part 3: Cool and Uncool

Like me, like me,
someone like me,
my kids don't even
post here for a laugh

maybe 'cause when
they were very tiny
I posted photos
of them in the bath

So when did they decide that it was so uncool
to comment on a parent's photos, as a rule,
To ever dare admit that they belong to me
Since when's it cool, to disown your family?

Yes, this is Ken and I with Auntie Mary
The younger ones all scampered off to hide
Maybe they find TicToc somewhat less scary
than Facebook, with the oldies by their side.

For now girls of eighteen are giving Botox tips
And twenty-three year olds have silicone-plumped lips.


Epilogue

Like me, like me
Go on and like me
Some people never learn

Fill in your details
password or site key
and sort key, and hit return.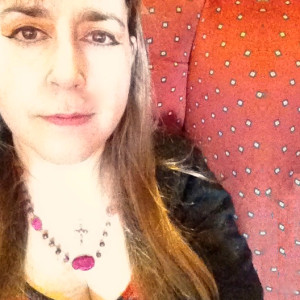 Sara Louise Russell, aka PinkyAndrexa, is a UK poet and poetry ezine editor, specialising particularly in sonnets, lyric-style poetry and occasionally writing in more modern styles. She founded Poetry Life & Times and edited it from 1998 to 2006, when she handed it over to Robin Ouzman Hislop and Amparo Arrospide; Robin now runs it as Editor from Poetry Life & Times at this site. She is currently founder and Editor of the blog journal, http://poetrylifetimes.blogspot.co.uk ; which is a sister publication to Poetry Life & Times. Her poems and sonnets have been published in many paper and online publications including Sonnetto Poesia, Mindful of Poetry and Autumn Leaves a monthly Poetry ezine from the late Sondra Ball. Her sonnets also currently appear in the recently published anthology of sonnets Phoenix Rising from the Ashes. She is also one of the first poets ever to be published on multimedia CD ROMs, published by Kedco Studios Inc.; the first one being "Pinky's Little Book of Shadows", which was featured by the UK's national newspaper The Mirror, in October 1999. (Picture link for Mirror article) Angel Fire




www.facebook.com/PoetryLifeTimes