Telos

Two evening lovers' echoes
In you forgotten dreams and
memories of essence.

Touch wordlessly in a greater optimism.

Waves of summer morn
Under a cloudless sky with
flickering lights of desire.

Turning like a dancer alone on the stage of life

The evening leaves turn after 
Their first death and sleep
In the place of forgotten Gods.

Does it break you apart to see the expectation so muddled?

Tabula Rasa

I saw the ethos of a
generation destroyed-
mourning the philosophers
In their artful vision.

The sense datum clouds
with cries of the 
nymphs welcoming 
new world dawns.

Mentality is, in its way forming,
a sign of hopeful intelligence.
Knavish roadblocks obstruct
triumphant returns to Arcadia.

A sterism fills my sight
As the false memories
Of a partial Utopia
Flood my soul.

Algor

Like a winter landscape fearful
Of revealing what lies underneath
And I-one minute
Adrift from myself.

Opening up to you
Is as easy as breathing
In the quest for completion
Of a new threshold.

Poetry is a constructed conversation
On the frontier of dreaming.
I cannot help but freeze-and
Scrutinize the ideology doctrine.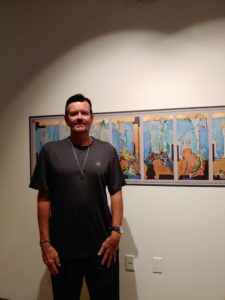 Carl Scharwath, has appeared globally with 170+ journals selecting his poetry, short stories, interviews, essays, plays or art. Two poetry books Journey to Become Forgotten (Kind of a Hurricane Press) and Abandoned (Scars Tv) have been published. His new book "The Playground of Destiny" (Impspired Press 8/21) features prose, poems and photography. His first photography book was published by Praxis in Africa. His photography was also exhibited in the Mount Dora Center for The Arts and Leesburg Center for The Arts galleries. Carl is the art editor for Minute Magazine (USA,) has a monthly interview column with ILA Magazine, a competitive runner, and a 2nd degree black- belt in Taekwondo.








Robin Ouzman Hislop is Editor of Poetry Life and Times at Artvilla.com ; You may visit Aquillrelle.com/Author Robin Ouzman Hislop about author & https://poetrylifeandtimes.com See Robin performing his work Performance (University of Leeds)